Features
Inspect7® has revolutionised the scaffolding and temporary works industry. Both our hardware and software work seamlessly together to optimise the inspection process, as well as providing efficiency and ensuring safety at all times.
 Key features of our inspection device & software: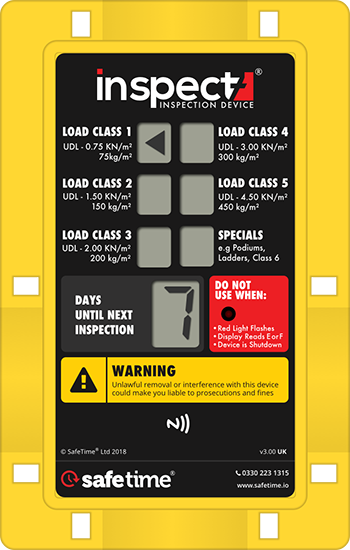 Immediate visual indication
Notifies the user of how many days until the next inspection.
No Batteries to replace
The Inspect7® device is fully tamper-proof, and a battery indicator is displayed on the latest inspection.
Waterproof to IP63
The inspection device has been manufactured to withstand the toughest conditions.
Security is of paramount importance
Inspect7® uses the latest technology and utilises secure VPS servers, with a fully encrypted connection.
Competitive pricing
Inspect7® has been developed to compete with any commercial solution available today, as well as offering so much more in regards to service and user satisfaction.
Paperless
Since all information is stored on our dedicated Inspect7® server, there is no need to print anything, reducing printing costs.
Fully web-based interface
Allowing collaboration between all parties.
Weather notifications
Inspect7® uses the 'Met-office' data to produce a weather report. This then notifies the user if a re-inspection is recommended.
Map overlay
Shows the user the locations of their projects & even where the last inspections were carried out.
Email notifications
Alert's the user of pending inspections.