About Us
Digital Scaffolding Inspections Since 2013
Inspect7® has revolutionised health & safety reporting by becoming a leader in digital scaffolding inspections. Using a visible tagging system to supplement scaffold inspection reports is a useful way of ensuring those who need access to the scaffold/temporary work know that it has been inspected correctly and therefore safe to use. 
The Requirements Of Scaffolding Inspections
Although tagging systems are not a legal requirement, the law does require an inspection of scaffolding, as well as the issue of a report by a competent person on a weekly basis. As a result, the Inspect7® device displays a visual 7-day countdown timer to ensure a weekly inspection of the scaffolding/temporary works is never missed. 
Award-Winning Scaffolding Inspections!
safetime® won the prestigious Beaumont Safety Trophy at the Construction Health & Safety Group Annual Awards. The award citation highlights the system's strengths:
This small but perfectly-formed device is a really clever tool that can give many of us peace of mind and a means of checking site activity performance from our offices.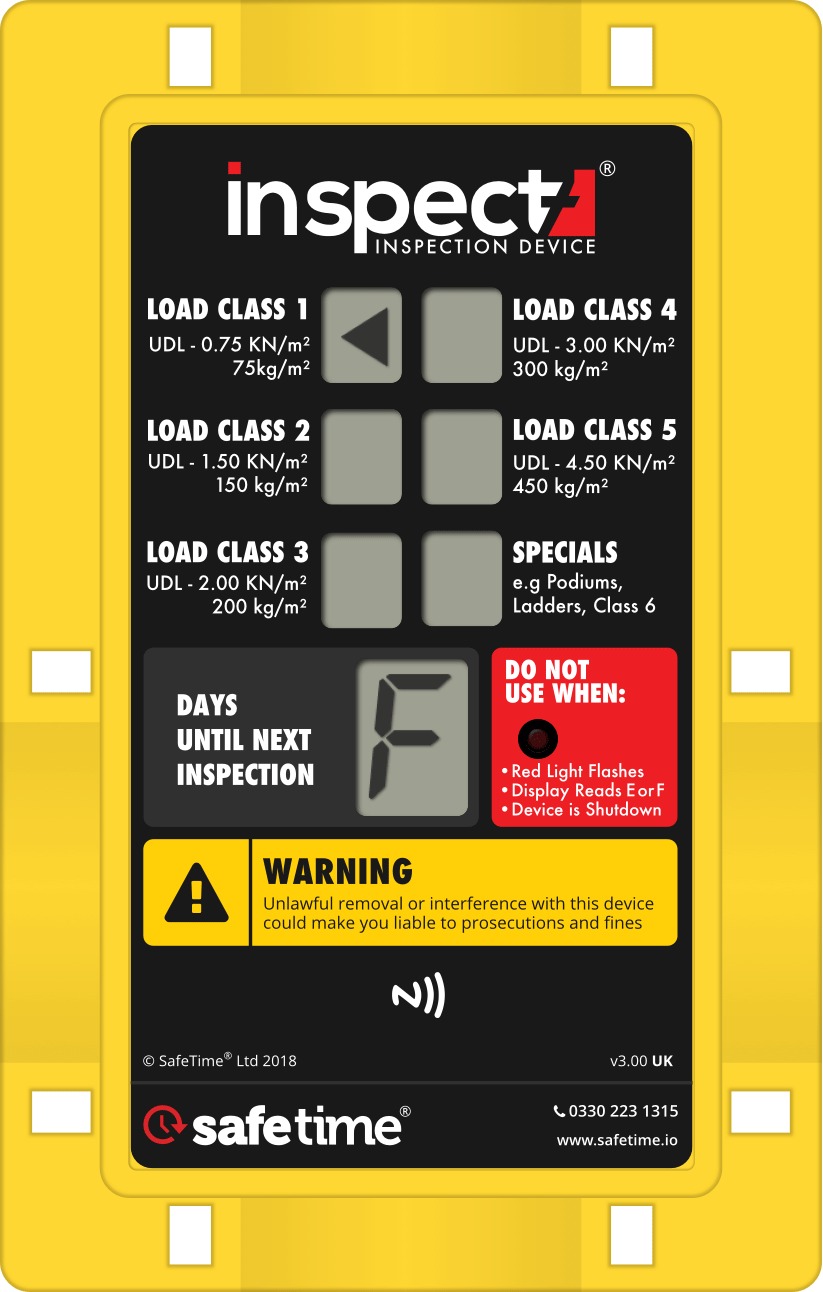 Inspect7® at a glance
---
Cloud Syncing
Sync inspection data instantly to the Inspect7® portal for team collaboration.
Map Geo-tagging
Get an accurate location of all your live devices and projects.
Email Notification
Receive a daily digest of due scaffolding inspections, as well as any updates.
Online Account Access
Full access to the Inspect7® online portal for up to 5 users.
Weather Notifications
Bad weather? Make the decision whether the scaffold needs re-inspecting.
Export of Reports
Download in-depth scaffold inspection reports to PDF or CSV.
Photo & Comment Sharing
Upload a photo or make a comment while carrying out scaffolding inspections.
Free User Training
Receive full hardware and software training free of charge.
 Visit Features for more details
Subscribe to our newsletter
Get all of the latest information on our device and services