What is Inspect7?
Inspect7® is a digital solution that is revolutionising scaffolding inspections in the construction industry. We make sure your weekly scaffolding inspections are carried out efficiently, competently and on time.
Bringing inspections into the 21st century
Inspect7® has revolutionised health & safety reporting by becoming a leader in digital scaffolding inspections. Using a visible tagging system to supplement scaffolding inspection reports is a useful way of ensuring those who need access to the scaffold/temporary work know that it has been inspected correctly and therefore safe to use.
The Inspect7 Device
Perfect for scaffolding! This digital device lets you see how long a given inspection has got left and alerts you when the scaffold has failed or expired. Carry out a mock inspection using the emulator below:
No Batteries to replace
The Inspect7® device is fully tamper-proof, and a battery indicator is displayed on the latest inspection.
Waterproof to IP63
The inspection device has been manufactured to withstand the toughest conditions.
Visual indication
Notifies the user of how many days until the next inspection.
Security is importance
Inspect7® uses the latest technology and utilises secure VPS servers, with a fully encrypted connection.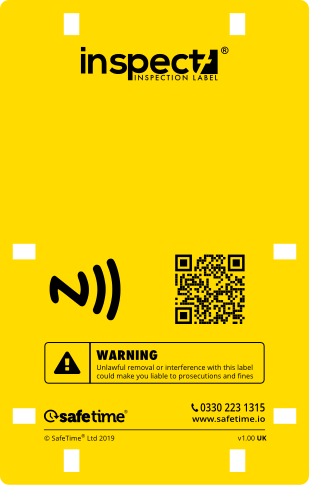 The Inspect7 Label
An alternative to the Inspect7 device, the Inspect7 label works on all phones that support NFC this includes iPhone 6s and up.
Android & iOS compatible
The Inspect7® label is fully compatible with iPhone 7 onwards and also any NFC capable android device.
Competitive pricing
The Inspect7® label has been developed as a cheaper alternative to the Inspect7® device.
Security is importance
Inspect7® uses the latest technology and utilities secure VPS servers, with a fully encrypted connection.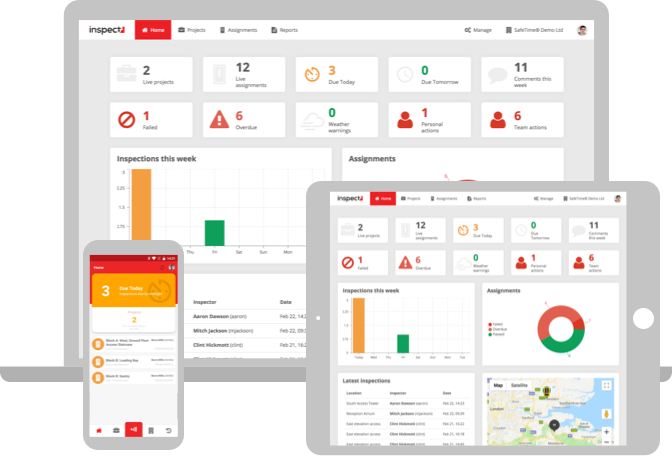 View inspections anytime, anywhere
View inspections from web, mobile or web portal.
Web portal
Inspection information can be accessed by anyone associated with the project online. The Inspect7® cloud-based portal (accessed from your web browser) allows users to view or download full inspection information. By using a cloud-based system there is no need to install/upgrade software. This approach also allows access from any PC with internet connectivity and a web browser installed.
Mobile app
Users of Inspect7® can finally say goodbye to pen and paper and carry out their scaffolding inspections and other inspections using our bespoke app. The inspection app implements the latest technology, such as NFC (Near Field Communication) and cloud-based integration, to create an effortless solution to the current and outdated method of carrying out inspections.
Download our brochure
For everything you need to know about Inspect7, download our brochure!
Download