The Importance of Scaffolding Regulations & Inspections 
Scaffolding regulations are very important and should always be considered on site. Working with scaffolding can be dangerous as it involves working at height and trusting the strength of the scaffold. There is always a chance of the scaffold getting weakened if erected poorly. To minimise the danger and avoid an accident occurring, it is essential to perform a complete inspection of the scaffolding on a weekly basis.
Scaffolding regulations demand only trained and competent individuals who have the correct certification should conduct an inspection of the scaffolding. safetime® fully checks the competency of each individual user using the Construction Industry Training Board 'Online Card Checker' before they are approved to carry out inspections.
---
Scaffolding Inspections Include the Following:
The name and position of the person carrying out the inspection

The location and the date and time

A description of the place of work or where the work equipment was inspected

Details of defects or anything identified during the inspection that could pose a risk to health or safety

Details of any further action considered necessary (www.simian-risk.com)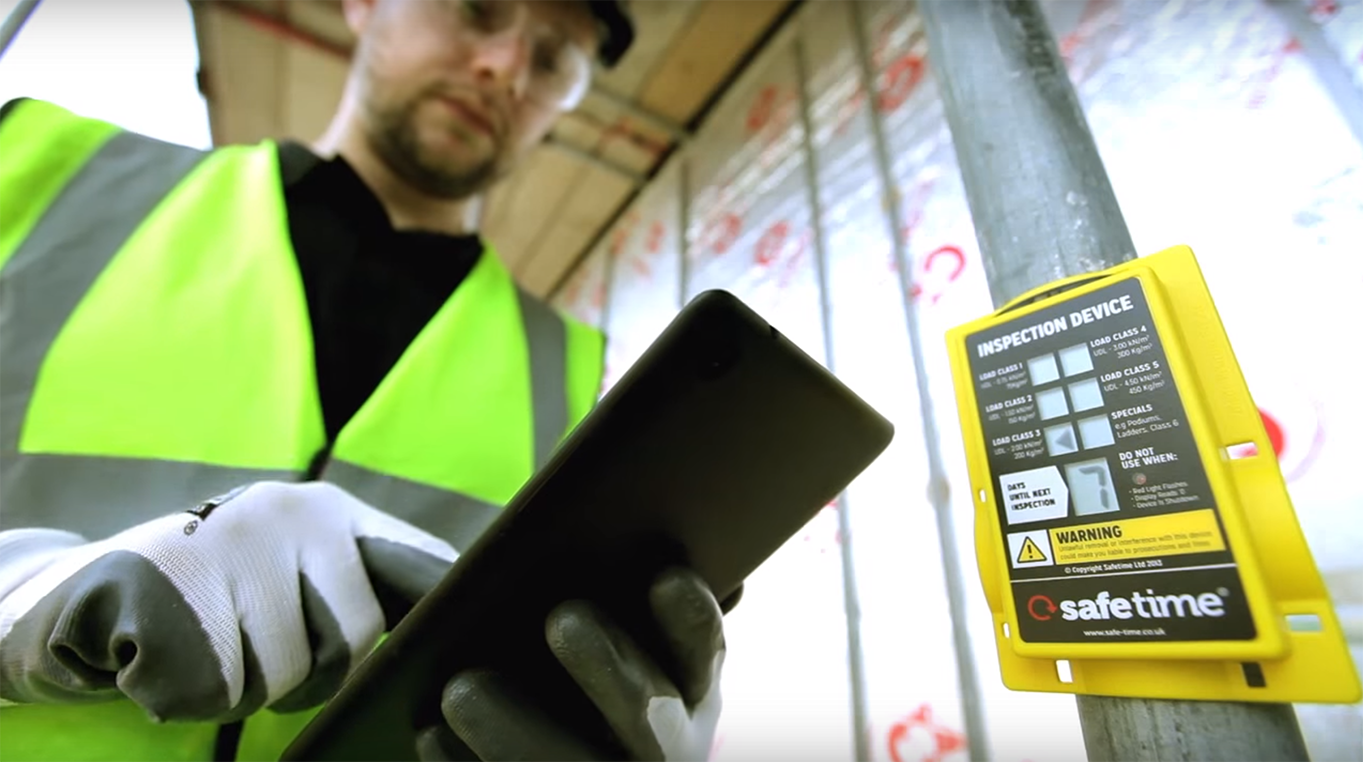 Q. Must I use a safety device on a scaffold?
Although a safety device is not a legal requirement, scaffolding regulations do require an inspection of scaffolding and the issue of a report by a competent person on a weekly basis. Our safetime® ' device' displays a visual 7-day countdown to ensure a weekly inspection of the scaffold is never missed.
A re-inspection may also be required after bad weather and always after any modifications. safetime®'s 'Geographic Weather Notifications' keeps inspectors ahead of the game, alerting them of bad weather and suggesting re-inspections.
Using a visible device system to supplement inspection reports is a useful way of ensuring those who need to access the scaffold know that it has been inspected and is safe to use. A safetime® device takes this a step further and even displays a flashing red light if the device has been failed i.e the scaffolding has been deemed unsafe or passed its weekly inspection due date.
Conclusion (Scaffolding Regulations & Inspections):
In simple terms, scaffolding inspections ensure safety and save lives. Unfortunately in some cases, however, inspections are not carried out appropriately and properly. Therefore, the use of systems, such as safetime®, are so useful and of paramount importance for ensuring safety.